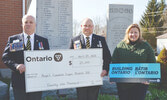 Trillium Grant funds new heating system at Brussels Legion
On April 29, Huron-Bruce MPP Lisa Thompson met with members of the Royal Canadian Legion Branch 218 to hear more about the impact that a $21,000 Community Building Fund grant has had since received it in late 2021. The capital stream grant was awarded by the Government of Ontario and delivered by the Ontario Trillium Foundation (OTF) and has been used to replace the Legion's heating system and water heater.

"The OTF's community building fund is a very important grant," said Huron-Bruce MPP Lisa Thompson. "Although the individual amounts may not be as high as others, the positive impact felt by these grants helps us and others get things done. The Legion is a focal point in every community and with this project, this local branch will continue to be a popular centre for years to come."

The project is now done and will help to ensure that the Legion building remains a viable community facility. The new energy-efficient heating and hot water system will extend the life of the space, so that it continues to provide the community with a year-round space for social and recreational activities.

"We are thrilled to be the recipients of the Community Building Fund Capital stream grant from the Ontario Trillium Foundation," said Jamie Mitchell, President of the Royal Canadian Legion Branch 218. "This grant will help to replace our old heating system with new updated technology. This new upgrade will be more cost-effective than our previous boiler system, which was over 30 years old. It will also ensure that we are ready to assist the community, our veterans and their families for years to come."

The Royal Canadian Legion Branch 218 is committed to preserving its facility and ensuring that it remains functional for many community activities over the course of the year. If you wish to enquire about using the space for an event, contact the branch at 519-887-6562.

The Ontario Trillium Foundation (OTF) is an agency of the Government of Ontario, and one of Canada's leading granting foundations. Last year, nearly $112 million was invested into 1,384 community projects and partnerships to build healthy and vibrant communities and strengthen the impact of Ontario's non-profit sector. In 2020/2021, the OTF supported Ontario's economic recovery by helping non-profit organizations rebuild and recover from the impacts of COVID-19. Visit otf.ca to learn more.