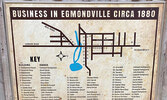 Van Egmond Foundation replaces historic map
BY DENNY SCOTT
The Van Egmond Foundation recently replaced a four-decades-old map at the site of the Van Egmond House to keep the history of the site alive and well.
The original map of Egmondville was created in the 1980s and, over the years, has weathered, necessitating the repair.
Last week, volunteer Herman Mooy installed the new sign, which was created by Blyth Printing. He said the historic map shows how the community has changed.
"Egmondville was a thriving community in the 1880s as can be seen by the businesses on the map," Mooy said.
The Van Egmond Family lived in the now-famous Egmondville house, starting with patriarch Constantine, who donated a portion of the property to a local church, which later became the existing Egmondville Cemetery. The house was handed down through the family until 1949, Mooy said, when it was converted into apartments.
In the 1970s, after being abandoned for some years, it was slated for demolition. However, a group of concerned citizens stepped in and purchased the property, leading to the creation of the Van Egmond Foundation. With financial assistance from the provincial government, a blue historical plaque was placed and the site became recognized as an Ontario Heritage Site.
The current executive includes 10 members who continue to fundraiser for the site and help maintain the property.
Mooy said that fundraising has been difficult during the COVID-19 pandemic, but this year the foundation hopes to be able to host its annual spring breakfast on July 24, and go ahead with the annual Ciderfest celebration at the site on Sept. 25.
During the pandemic, the foundation turned to meat pie sales and drive-through dinners as a way of continuing to raise money and connect with the community.
The Van Egmond House itself will be available for tours by appointment this year. For more information, contact Foundation Curator Pat Saundercock at 519-482-9650.