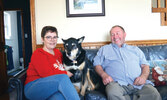 Van Vliets focus on family and friends over the holidays
BY DENNY SCOTT
John and Dee van Vliet have been making Christmas memories together for about five years now, with a focus on friends, family, neighbours and films.

The two are marking their fifth Christmas together this year, Dee said, and she's shared many of her own traditions with John and his son Andrew.

"On Christmas morning, we have breakfast and gifts with Andrew," she said, adding that Andrew has a girlfriend now, so schedules sometimes get shifted around a bit. Breakfast will consist of whatever "fun" recipe she finds on Google, and has included everything from breakfast quesadillas to more traditional spreads. The meal is always big enough, she said, to keep everyone content until it's time for a traditional turkey dinner.

For the couple, the Christmas break is a time for resting and connecting with family, though this year, John said they pushed that a little early.

His own family Christmas was held alongside the family Thanksgiving celebration at his home last month. He said that getting together with his siblings is important, but that it's different now that his parents are gone.

Part of that celebration also included his neighbours and his former-brother-in-law. John lost his first wife, Joanne, to cancer nearly 20 years ago, but has remained connected with her family.

He said that having neighbours over, especially some of the younger neighbours that John has been looking out for for a number of years, really makes Christmas special. It really feels like a community event, he said, and there's never a want for excitement between him and those who live closeby.

It was especially exciting this year, he said, as it's the first time that people were able to get "back to normal" after the COVID-19 pandemic.

For Dee, Christmas movies, alongside some non-seasonal classics, play an important part in her Christmas traditions. She and John will watch a number of films from the classic A Christmas Carol (also known as Scrooge) starring Alastair Sim to The Sound of Music to whatever is on the Hallmark Channel this year.

Dee's family is mostly in Burlington, however her twin sister visited her and John and ended up loving the area, resulting in Dee's sister and her husband buying a house in Huron County. John said that, as a result, the two couples will likely end up spending a significant amount of time together this year.

John and Dee do plan on heading to Burlington to see Dee's mother and other family members before the Christmas break.
As for their personal experiences and traditions, Dee likes a quiet Christmas. Having spent 33 years working in a retail setting, she now appreciates the time off around the break and just relaxing.

John enjoys being able to sleep in a little bit more at Christmas now that Andrew is grown up. While getting out to the barn for chores is still important, he's not rushed to be up at 4 a.m. to be able to come in early for the gifts from Santa Claus. It is a busy time of year, however, as Dee points out they are trying to clear the barns for February when the couple heads to Florida for a vacation.

On Christmas Eve, the couple heads to church with John's former in-laws, keeping up a tradition that has gone on for years.
As far as gift-giving between the two of them, Dee does have an antique stocking she's used since she was a child and it was gifted to her, however John found a different way to give her presents, which she said was great.

"He would buy me rubber boots every year filled with treats," she said. "It was great because I definitely needed work boots for the barn."

Christmas is the pair's favourite holiday, John said,

This was a very important year for celebrations, John said, as they had a staff party at the farm one weekend, and a family party two weekends later. In between, he said, he and Doug McArter hosted a party for the committees responsible for the Brussels, Morris and Grey Community Centre renovations.

The two committees, one in charge of the renovation and the other fundraising, hadn't had a chance to meet face to face for almost the entirety of the campaign, so bringing everyone together to mark the success of the renovations actually started was important. John said he was glad to be able to do that this year.