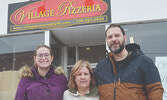 Village Pizzeria opens its doors in Blyth
BY DENNY SCOTT
Blyth's main street has a new restaurant in Village Pizzeria, which opened its newest branch earlier this week.

The pizza shop, which offers over 20 specialty pizzas, chicken wings, submarine sandwiches, pastas and salads, opened on Tuesday after generating a significant amount of buzz with residents according to Scott Heard, the founder of the chain and Chief Operating Officer of BG Wealth, which owns the chain.

The local restaurant, located at 409 Queen Street, will be run by franchisees Carlo and Gail Isetta, who look forward to announcing a grand opening in the near future.

The chain, which is almost 10 years old, started in 2013 in Lucknow when Heard and his wife Tracy Skillen took over a local pizza shop.

Heard said Skillen left her job at a local nursing home due to medical reasons, and the couple bought the pizza business to give her a place to work.
"She changed a few of the recipes and the sales just grew and grew and grew," Heard said.

It didn't take long before Heard and Skillen had opened their second shop in 2014, opening a store to sell pizza and ice cream in Point Clark.
He said the business continued to grow, going from making 60 pizzas a week at one location to 500. Following that, he opened another location in Erin that is run by his daughter.

Eventually, Heard started looking at retirement, however, and cut down on the number of restaurants until December of 2020 when he received an offer from BG Wealth to buy the chain.
"Part of the offer was that I would build them restaurants for the next three years and be COO of the company and run the franchises," he said.

Since then, despite the pandemic, Heard has overseen the business continuing to grow, including locations in Goderich, Owen Sound and the new storefront in Blyth.

As for why the new location is opening in Blyth, Heard said the space is a great fit for the pizzeria.
"We've been looking in the area for quite awhile, and had our franchisees looking," he said. "Blyth seemed to be the perfect town. We know what a nice town it is and know how nice the people are and the location is great. It's a great small town, which is exactly what we look for."

The feeling is mutual, according to Heard, who said the interest from locals has been significant.
"We get all sorts of phone calls and people coming into the Lucknow store asking when we're going to open the Blyth store," he said. "We are looking forward to servicing and working with the people in the town."

As far as the soft opening, Heard said it's an important step in letting both the franchisees and their employees know what's coming, adding that the Isettas have hired some staff for the restaurant but are looking for more.

Heard also said the company has opened a chain of restaurants called Coach's Burger Joint with one currently open in Wiarton and another opening shortly in Goderich, with more locations coming soon.

For more information, call the restaurant at 226-523-2824, visit villagepizzeriablyth.com or check out the Village Pizzeria Blyth on Facebook where daily specials will be posted.