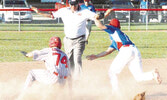 Wingham Hitmen hold top spot in Huron County Fastball League
BY SHAWN LOUGHLIN
The Wingham Hitmen remain atop the Huron County Fastball League standings with 18 points and a record of 9-1. The team lost its first game of the season and has been on a nine-game tear ever since.

The Walton Brewers have jumped into second place with a record of 8-5 and 16 points, ahead of the Belmore Stingers at 7-1 and 14 points, and the Brussels Tigers at 7-3 and 14 points.

Mitchell is in fifth place with a record of 5-4, followed by Milverton in sixth with a record of 5-5, Sebringville in seventh with a record of 3-4, Fullarton in eighth with a record of 3-6, Monkton in ninth with a record of 2-8, Wroxeter with a record of 1-6 in 10th place and the Goderich Grizzlies in last place with a record of 1-8.

On Tuesday night, the Walton Brewers won a high-scoring affair over Monkton by a score of 13-11 in Walton.
The Sunday afternoon game between Milverton and Wroxeter was postponed, with a date to be determined later.
Milverton beat Mitchell on Thursday, July 21 by a score of 15-9.

Belmore was due to play Fullarton on July 20, but that game was postponed with a make-up date yet to be determined.
Wingham beat the Walton Brewers by a score of 7-4 on Tuesday, July 19, while Monkton beat Milverton by a score of 7-5 on July 18.

Looking ahead, Wingham was scheduled to travel to Belmore with a game against the Stingers on Wednesday, but a score was unavailable at press time. The Brussels Tigers were also due to play the Mets in Mitchell that night, while Fullarton was due to travel to Goderich for a contest against the Grizzlies.

On July 28, Monkton was set to travel to Milverton, but a score was unavailable at press time.

On Monday, Aug. 1, the Brussels Tigers will take on the Walton Brewers in Brussels for a league game that's part of the Brussels 150th Homecoming celebration. The first pitch of that game is scheduled for 3 p.m.

On Wednesday, Aug. 3, the Grizzlies will head to Wingham for a game against the Hitmen, while Monkton will play Mitchell that night as well.

On Thursday, Aug. 4, Fullarton travels to Milverton for a game that was rescheduled from June 30.

For a full schedule and up-to-date standings, visit the league online at huroncountyfastball.com.