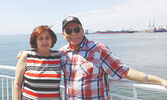 Wingham welcomes new doctor, pharmacist couple to community
BY DENNY SCOTT
Late last year, the residents of Wingham welcomed two new additions to both their community and their local healthcare system with Dr. Mahrous Mousa and his wife, Salwa Sokar, a pharmacist who works at Wingham's Rx Drug Mart IDA.

Mousa has taken over the practice of retired physician Dr. Jim Shuffield, who had 650 patients, as well as working in primary care at Royal Oaks Clinic and providing inpatient care. He will also be working one day per week at the Wingham and District Hospital's emergency room.

Mousa earned his medical degree at Alexandria School of Medicine in Egypt, which was a natural path for him.
"I studied medicine a long time ago," he said, saying he started studying in 1986. "I chose medicine because my role models were my parents, and both of them were physicians."

His mother was a gynecologist and his father an internal medicine specialist, Mousa said.
"I spent many years travelling with my parents [through the] Doctors Without Borders program," he said. "I saw many different countries, and fell in love with medicine. I decided to be a physician."

He did his pre-med studying and medical school in Egypt, then travelled to England for a year of residency training, finally earning his Master's Degree.

In addition to his parents, many other members of Mousa's family are connected to the medical field. He counted paramedics, nurses and dentists among his aunts and uncles.
"If you're sitting around the dining room table, you would hear all these old guys talking about patients, medicine and disease," he said.

Not having access to the internet, he said he could only go to the library and he spent hours and hours researching diseases.
The couple has now moved to the community from Princeton, British Columbia, where both have worked in their chosen fields since 2016. In addition to their new positions, the pair has made the cross-country move to be closer to their children, who live in Burlington.

"That's really the biggest reason," he said, explaining his daughter is a pharmacist and his son is an actuary.
Mousa said the move was made very smooth thanks to Jan McKague-Weishar, physician recruitment officer for the Wingham and District Hospital. Beyond that, he said that Wingham has a very similar hospital to what he was familiar with in BC: a rural practice that serves regular hospital needs, a nursing home and chemotherapy, to name some features.
"It feels no different," he said. "It was a very easy and very smooth move."

He said the community is very welcoming and everyone has taken time to wish him well.
As for what originally brought them to Canada, Mousa said it made sense for his family.

"[After my residency] I did some work in Queensland, Australia for four years, then went back to Egypt," he said, mentioning that his daughter was very young at the time. "We felt it would be easy for her to be in a country where she could get a good quality education without needing to travel. At that time, Canada was welcoming physicians and pharmacists, so we immigrated here in 2008."

Mousa started Sept. 13, and said that, so far, he has settled in nicely at the new space.
When asked about differences between his previous posting and this one, Mousa said that medicine is the same everywhere, and that the only difference is he isn't involved in as many specializations.

"Back in British Columbia I was doing obstetrics and gynecology, in addition to family medicine," he said. "I would say it's almost the same here."

McKague-Weishar said that both Mousa and Sokar were welcome additions to the community with recent shortages in the medical field, adding she knew they would fit in well with the community.

"The first time that Mahrous and Salwa came to visit, back in May, right from the very beginning I could tell it was a very easy fit," she said. "Dr. Mousa is such a nice, congenial person to get along with and we are so lucky to have him."