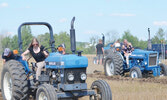 2023 Huron County Plowing Match continues to take shape
BY SHAWN LOUGHLIN
Planning for the 95th annual Huron County Plowing Match is well underway, with the stage being set just northeast of Brussels on the home farm of Peter and Leisa Albers.

The Huron County Plowmen's Association met at the Albers farm on Browntown Road for its monthly meeting last week, as the match - scheduled for Thursday, Aug. 17 and Friday, Aug. 18 - draws nearer.

The match will begin on Aug. 17 with Junior Day. The young plowers will practice from 9-11 a.m., followed by the competition from 12-3 p.m.

Also that day, the Princess competition will go ahead. As of right now, organizer Natalie Fear reports that three contestants have confirmed their interest, while she continues to hunt for more.

On Friday, Aug. 18, registration will open at 8 a.m. and the competition will begin at 9 a.m.

Speeches to help decide the Queen of the Furrow competition winner will begin that day at 1 p.m. and former Huron County Queen of the Furrow and current Ontario Queen Maranda Klaver said that, as of right now, there are 10 young women confirmed to be part of the festivities.

Later that day, the Huron County Soil and Crop Improvement Association, as well as several implement dealers, will be there and demonstrating as part of the match. The association will demonstrate between 2-4 p.m. that day.

The vendor market will go ahead this year again and the association is actively looking for more vendors. Reach out to Margaret Vincent at vincent9margaret@msn.com if you are interested.

There will also be antique displays, organized by Henry and Annette Hendriks from the Lucknow area. They are also looking to involve more people, so reach out to them at 519-529-7560 for more information.

At 5 p.m., the banquet will begin with a meal catered by Cardiff Catering. That night, the plowing awards will be handed out and the 2023 Queen of the Furrow will be crowned, ending the local reign of Luanne McGregor.

There will also be both a silent and live auction at the banquet after dinner has been served.

On both days, the Brussels Leo Club will be serving lunch, while the Brussels Optimist Club will be dishing out breakfast on Friday, Aug. 18.

The association will hold one last meeting, also at the Albers farm, before the match, scheduled for Thursday, Aug. 10.

The Citizen will be producing its annual special issue for the match again this year, so keep an eye out for it in your Aug. 11 issue of the newspaper.