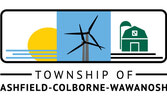 ACW Council closing in on new strategic plan
BY SCOTT STEPHENSON
Ashfield-Colborne-Wawanosh (ACW) Council held a special meeting on Friday, Aug. 18 to discuss the progress of ACW's five-year corporate strategic plan, which was presented by Jesse Burns, Jason Wong and Katia McDougall of Optimus SBR.

At the meeting, community input was brought to the attention of council and senior staff for consideration. Concerns, ideas and thoughts from the public were collected online and during an in-person town hall event held at the Kingsbridge Centre on July 19. Over 100 comments regarding the future of ACW were collected, which is a high level of engagement, according to the consultants from Optimus SBR.

In addition to public comments, input from interviews with ACW councillors and staff were used to draft concepts for the corporate strategic plan's vision, mission and values. The intended goal of the special meeting was to further refine these ideas into a focused and practical plan to act as a roadmap for decision making over the next half-decade in ACW.

In creating a vision, eight main themes were identified as being important to ACW's future success. Agricultural heritage, improving infrastructure and focusing on environmental sustainability was top priority for some, while balancing rural living with urban expectations was key to others. Responsible development along the shoreline was highlighted, as was the desire for economic development, the creation of an inclusive community, and a need for an infusion of young families to the area. Council and staff discussed which of these themes they most valued.

Optimus SBR presented several drafts of possible vision statements, each focusing on a balance between tradition and modernity with an emphasis on inclusivity and community.

Councillor Anita Snobelen enquired about the possibility of using a term like progressive, to which Clerk Florence Witherspoon responded that the word had too many meanings to different people. Some consider the term to be specifically political, while some consider it to simply mean moving forward. This opened up the conversation into a discussion about the importance of wording that continued throughout the meeting.

Mayor Glen McNeil spoke in favour of moving forward as a community, and was concerned that using the term tradition would indicate that the township should do things the way they've always been done without innovating, while Deputy-Mayor Bill Vanstone advocated for the use of the term tradition, believing it would be interpreted as a strong foundation upon which to build.

Optimus SBR also presented several drafts of possible mission statements, which focused on serving the community today while planning for tomorrow, in an efficient and transparent manner, with an emphasis on community connection, trust building and shared prosperity.

The meaning of each individual word of the mission statement was weighed carefully in a spritely discussion, led by McNeil. Words like proactive, progressive, transparency, engagement, communication, partnerships, trust, connection, wellbeing and respect were all examined. Through conversation, councillors and staff compared their personal definitions of each word and found many subtle differences in their interpretations of their meanings. Philosophical questions such as, 'Is respect more inclusive than integrity?' were discussed. McNeil liked the inclusion of shared goals and prosperity, saying that "as our municipality prospers, our 6,000 citizens benefit."

Councillor Jennifer Miltenburg wondered if appearing to be too prosperous would create a lack of action and engagement, and spoke in favour of transparency and communication with the populace.

In discussing the strategic plan's values, council and staff were provided a list of possibilities, which included words like fiscal responsibility, innovation, professionalism, sustainability, collaboration, accountability, efficiency and inclusivity. Optimus SBR asked meeting attendees to choose four or five that they valued most. Chief Administrative Officer Mark Becker chose professionalism, fiscal responsibility, service excellence, efficiency and collaboration. While each person present at the special meeting had somewhat differing values, it was agreed by all that professionalism is important.

"Success Factors" identified by Optimus SBR were presented next. These are the elements required to make the strategic plan a successful one. Sustainable living, economic growth, safety and wellness, and cultivating community trust were some of the factors that were highlighted as essential to ACW's future. Witherspoon pointed out that safety and wellness goes beyond physical safety, and should include combating factors such as racism and discrimination.

Optimus SBR will be using input from the special meeting of council to make adjustments to the plan and is expected to present the next draft to township leaders on Sept. 12, with a final version expected on Sept. 27.