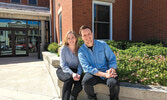 BF23: Laurie and Seline team up for Donnellys shows just weeks after their honeymoon
BY SHAWN LOUGHLIN
Huron County native Cam Laurie and his wife Hallie Seline will be working together on this season's trilogy of Donnelly plays at the Blyth Festival, but they're no stranger to acting alongside one another.

Laurie and Seline are among the founders of The Howland Company Theatre, an artist-led, art-driven Toronto-based theatre that "strives for innovation on and off the stage." As a result, they have worked together a lot. Working together on material they haven't had a hand in creating, however, is a bit unique, which is why this project has been so appealing to them.

Seline is from the Eastern Townships in Quebec and Laurie is from Huron County, but they both converged on the University of Toronto's Mississauga location several years ago to attend theatre school. There they met and began a relationship that all culminated in their Toronto wedding last August. They had only been back from their Paris, France honeymoon for a few weeks when rehearsals for the Donnelly shows began in May.

Laurie has an extensive history with the Festival, despite his young age. He is an alumnus of the Festival's Young Company program, having been directed by renowned playwright Marie Beath Badian and current Festival Artistic Director Gil Garratt, who is also directing the Donnelly shows this season, and he says it was there that his passion for acting first took hold.

As a child, he was part of a community-based acting component of The Outdoor Donnellys, which is commonly regarded as one of the Festival's most successful productions, and now he's returned to tell the Donnellys' story in three acts on the Harvest Stage this summer with Sticks and Stones, St. Nicholas Hotel and Handcuffs.

He would go on to act in Gary Kirkham's Falling: A Wake, produced by the Blyth Festival in its Phillips Studio several years ago, and as Brendon Dinning in 2016's Our Beautiful Sons: Remembering Matthew Dinning before playing the role of Miles in last year's The Drawer Boy, which was produced on the Harvest Stage.

Seline, however, grew up nowhere near the Blyth Festival and was only introduced to it when she began dating Laurie. She was immediately taken with the experience, she said, seeing Vimy in 2011 and she was blown away by the impact of the art being produced in the village. Being from a relatively small community herself, Seline said she fell in love with the Festival.

Her Blyth Festival debut was due to come earlier, as part of the 2020 company, but that entire season was cancelled as a result of the COVID-19 pandemic and her time in Blyth would have to wait.

She says she's so thrilled to have been asked to be part of the fantastic company that's been assembled and to be part of the village for the entire summer, performing all three of the plays.

Laurie says he feels the same way and was happy to take a 16-week vacation from their life in Toronto and return to his home county. Furthermore, to be part of such an incredible legacy and to help tell a story that is so important to the region, he said, isn't an opportunity that comes along every day.

Taking part in The Outdoor Donnellys, The Drawer Boy and The Donnellys: A Trilogy, Laurie will have made his mark on some of the most important shows not just in Blyth Festival history, but in the history of Canadian theatre. To bring Seline into that world, he said, is special.

Laurie grew up in Huron County with the Blyth Festival serving as his unofficial creative home, so to have his wife act alongside him in one of the most ambitious projects in the Festival's history, he says, means a lot to him.

As for the production itself, both Seline and Laurie agree that rehearsals had progressed quicker than either of them had anticipated, with the actors being "up on their feet" and blocking scenes within the first two weeks after reading through all three of the plays.

They said the process has been collaborative and collective, which is something they're familiar with, so they felt really good about the potential for the show under the direction of Garratt.

Furthermore, they said it's nice to be performing someone else's work, being able to focus on the acting side of the job without any of the administration of putting on a show, with which they're both familiar due to their work with The Howland Company Theatre.

The Donnellys: A Trilogy will open on Saturday, June 24 with the premiere of Sticks and Stones, followed by St. Nicholas Hotel on Saturday, July 15 and Handcuffs on Thursday, Aug. 3. There will then be opportunities to see all three shows on consecutive nights several times throughout August as, after Handcuffs premieres, the shows will begin running in three-day clusters on Tuesday through Thursday and again on Friday through Sunday until Sunday, Sept. 3.