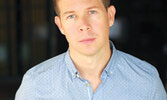 BF23: Playwright Matt Murray tells his story of Sarnia
BY SHAWN LOUGHLIN
It all started with a title for playwright Matt Murray.

The Sarnia native brainstormed the clever and eye-catching Chronicles of Sarnia - of course a nod to C.S. Lewis' iconic The Chronicles of Narnia - and then went hunting his brain for a story to live up to the promise of the title.

Chronicles of Sarnia is the third of four main-stage shows that will grace Memorial Hall this summer, in addition to a trio of productions at the outdoor Harvest Stage. Murray met Blyth Festival Artistic Director Gil Garratt a few years ago and they had a discussion about Murray's hometown and how he could tell a story of that city in a way that would translate to the stage. That is when the Chronicles of Sarnia title was born.

In the play, Murray tells the story of a high school history teacher who wants to both tell and preserve the story of Sarnia in the form of a 100-year time capsule. He was inspired to write the play - aside from the incredible title - when he went back in his memory and remembered experience with such time capsules, both unearthing them and contributing to them. It was that thought that then led to the idea of history itself. Who is writing it? Who is reading it? And, are we overlooking our own, contemporary contributions to history while looking too far back, sort of not seeing the forest for the trees.

And while the play will deal with some serious themes of people coming together to tell the story of a specific place in a specific time, Murray says the show is very much a comedy and one that he had an absolute blast writing.

The teacher - Erin, who will be played by Severn Thompson - doesn't exactly see her plan shake out the way she hoped it would, but she then works to assemble a motley crew to execute her vision regardless of those early hiccups and, of course, hilarity ensues.

While the play will tell the story of the far-off land of Sarnia, Murray says the play will be at home at the Blyth Festival, of which he has been a fan for a long time. He calls the Festival one of the best incubators of new work in the country and a theatre company that has been supporting emerging artists and the telling of original, Canadian stories long before it was cool to do so.
Another shining light of the Festival has been its commitment to telling some of the edgier stories over the years, Murray said, which is another reason the Festival has appealed to him.

In regards to this play, Murray says he's very excited to begin the read-through and rehearsal phase of the project. Working with seasoned theatre professionals and creators like director Miles Potter and actors Mark Crawford and Severn Thompson can only serve to improve the story, he said. Murray considers himself a very collaborative writer and says he learns a lot from the play when he hears actors perform his words. As a playwright, he says, you can really only do about 80 per cent of your job until you hear actors perform what you've written and then when you've seen an audience react to it.

And he welcomes that collaboration and input. That's the path to truly special and exciting creativity, he said.

Murray has primarily worked as a writer of musicals over the years, which he says are highly labour intensive and can take a very long time to complete (he cites one project of his, Maggie, which took over eight years to finish). So, while he has worked largely with musicals over the years, he is looking forward to a breakthrough Chronicles of Sarnia which he said never felt like a musical to him, which is why it exists the way it does now.

As for the play itself, Murray hopes it will give people the opportunity and the licence to think of things from a new perspective, look at themselves and how they contribute to the history of their communities and, perhaps, find some common ground.
Chronicles of Sarnia brings together people from all different walks of life and with very different viewpoints to achieve a project in the name of the greater good. That co-operation and collaboration, he said, is something we could all use from time to time.
Chronicles of Sarnia opens on Saturday, Aug. 5 at 2 p.m. and closes on Friday, Aug. 18.