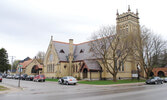 Walking tours show off Exeter's classic Victorian architecture
The Exeter and District Heritage Foundation has published a pamphlet and map that offers two different walking tours of the historic town – one of the downtown business district and one of the town's classic Victorian homes.
The Foundation is a story in itself, created in 1976 by a group dedicated to saving Exeter's 1877 Town Hall from demolition. Through the group's determined vision and fund-raising, the restored hall was reopened in 1980. Now it is the focal point of the Main St., located at the corner of Main and Sanders Streets where it has a new neighbour, a dramatic new branch of the Huron County Library.
The downtown walking tour takes in three blocks of Exeter's long business area starting at the corner of Main and Huron Street West and going north on the west side of the street before crossing over near the town hall and returning on the east side of the street. Featured are 10 locations with paired photos of each building today and what it looked like in much earlier times. Short stories on each building reveal something of life in earlier times such as stores that had 40 or more clerks to serve customers or a hotel that's now been turned into apartments and retail shops.
The other side of the pamphlet features an 11-stop tour of Victorian homes plus stops at the majestic Trivitt Memorial Church and the Exeter United Church, formerly the Bible Christian Church. Several of the homes have connections to early business families such as the Carlings and the Pickards.
You can pick up copies of the brochure and map at the South Huron Welcome Centre on Main Street south of Huron Street.