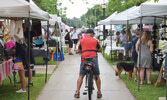 Festival of Arts and Crafts persists despite soggy weather
BY SCOTT STEPHENSON
Last Saturday, the weekly Goderich Farmers' Market in The Square was joined by the Festival of Arts and Crafts - an event full of local artisans selling paintings, textile crafts, jewelry, recycled art and more.

A full day of deeply inclement weather caused artists working in paper crafts to shutter their booths early out of concern that rain may yet again beat paper in the endless battle of art versus the elements. Card makers and painters alike made the difficult choice to save their creations and abandon their booths.

Quilt makers and yarn artists circled their wagons and wares against the rain, bringing their fabric art into the centre of their tents to try and keep them dry, with a reasonable amount of success.

Jewelry- and candle-makers held out a bit longer, confident that their chosen materials of metal, resin, glass and wax have withstood against the elements for centuries, and will continue to do so.

Recycled metal artists, no strangers to rust, welcomed the rain as just another part of the cosmic ballet of decay that occurs in all things, while the booth making 3-D printed, fully articulated dragons and other plastic sci-fi sundries remained unconcerned - the weather is now and will always be beyond that booth's concern.

The Goderich Rotary Club served up delicious hot dogs from their snack jalopy until the bitter end, and on the bandstand, the lovely singing of the day's musical act gave way to an epic drum solo that continues to echo through the ages.

It was just another day on The Square.