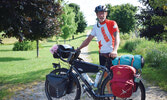 Lucknow's Weerman back on road for cross-country cycle ride
BY SHAWN LOUGHLIN
After cycling about 4,700 kilometres from Jordan River, British Columbia to his Lucknow-area home, 57-year-old Jurjen Weerman rested for just over a week before setting out on the second half of his cross-country journey.

Weerman began on the west coast in May and steadily made his way through British Columbia, Alberta, Saskatchewan, Manitoba and several states before entering Ontario and making his way home. He arrived there on Monday, July 10, one day ahead of schedule and continued his way east on Thursday morning with plans to end in St. John's Newfoundland before the end of August (when he's due back at work at Belgrave's Euro Parts).

The Citizen sat down with Weerman just two days before he was set to be on the road again, Willie Nelson-style, as he toggled between readying for his trip and running errands around the house. (He had been gone for nearly two months, after all.)
Weerman is raising money for two local hospital foundations with his trek across the country - the Wingham and District Hospital Foundation and the Children's Health Foundation. His goal, he said, is to raise a total of $10,000, though he wouldn't say no to exceeding that goal.

The ride began on the west coast and Weerman and two other cyclists "baptized" their bikes in the Jordan River, which he said felt like the right thing to do.

From there, they began heading east. Just a few days into the ride, they stopped at Mile Zero in Victoria, which is the beginning of the Trans-Canada Highway. Coincidentally, he hopes to visit another Mile Zero upon completing his ride, Terry Fox's Mile Zero in St. John's, Newfoundland, where the Canadian hero began his cross-country trip. Weerman said he has been thinking a lot about Fox along the way and the sheer enormity of the task at hand - not to mention the fact that he's had a lot of time to think.
Along the way, Weerman and his mates connected with old friends and relied on the generosity of strangers or stayed at local campgrounds or homes connected to the Warm Showers Network, a loosely-connected series of homes and sites for touring cyclists that provides them a place to stay, the titular warm shower and perhaps a hot meal.

As the trio traversed its way across British Columbia, Weerman said the weather was beautiful, though it was cold at night, sometimes below zero, but they were ready for it and had winter gear with them.

As they continued their way into the mountains of western Canada, Weerman said disagreements arose among the three cyclists, mainly surrounding the route and the start time of each day's ride. Weerman was adamant that he had a schedule to keep and he was pretty committed to the route he had mapped out. For example, during one of the days ascending the mountains, he wanted to start very early, before 5:30 a.m., in order to reach their destination before the heat of the early afternoon took hold. The other two cyclists wanted to start later and Weerman continued on his own schedule.

After a few days of discussions and arguments, according to Weerman, he was sure that he was going to continue on his own. The other two cyclists are continuing the trip, but on their own schedule, with more rest days, Weerman said.

He said he found the early starts to be more efficient in terms of cycling in cooler temperatures on hot days and, frankly, more relaxing. He said he completed the day's distance by early afternoon, put his feet up, read and relaxed for the rest of the day, rather than arriving at his destination for the day around the dinner time hour, exhausted and hot.

Weerman continued through Alberta, Saskatchewan and Manitoba, riding along the Canada-U.S. border. Along that route, he said, he met many kind people who offered him food, water, shelter and, really, whatever he needed. Most people didn't even know he was cycling across the country for charity, they just thought he was a cyclist who must be exhausted after hours out on the road.

Around Cardston, Alberta, he said, he began to notice the effects of the air quality due to the fires raging in that part of the country, but they were only minor in the grand scheme of things in regards to their impact on him. Soon after, there was a significant change in wind direction and he could no longer smell the smoke.

That was good news for another reason as well, as he was the beneficiary of 65-kilometre-per-hour tailwinds. On those two days, he said, he made significant progress. He had planned on cycling about 100 kilometres per day, but on those two days, he travelled 174 and 204 kilometres, respectively.

He was also surprised at how quiet some of the rural roads along the border turned out to be. On some days, he said, he'd be lucky to see five cars all day, which he couldn't believe. As a result, though, he was witness to plenty of beautiful scenery and nature playing out right in front of him. On those days, he would see deer, foxes, wolves, coyotes and plenty of birds, which kept him entertained along the route.

As he made his way across Manitoba, he readied for the portion of the cross-country journey that wouldn't take place in the country at all. Weerman spent nine days in the United States, cycling across North Dakota, Minnesota, Wisconsin and Michigan before returning to Canada, via Ontario, and making his way to Sault Ste. Marie.

While he was still far way from home, Weerman said he was happy to be back in his home province. After spending over a week in the U.S., he said, there was a certain relief to being able to use Canadian money once again.

He took the Chi-Cheemaun Ferry Service to the tip of Tobermory and then gradually make his way to Huron County from there.
As he closed in on Lucknow, Weerman said he told a little, white lie to his wife ahead of Monday, July 10 regarding his location. This way, he was able to slip home, squeeze in a shower and a shave and be relaxing with his feet up when she came home from work. He was one day earlier than expected, so it was quite a surprise that certainly brought a smile to Weerman's face in its retelling.

Along the way, he said, his bike held up remarkably well, as did he. He said there was a minor repair here or there (a fender rubbing the wheel and a saddle replacement after a saddle sore - the first of his cycling career) but, with regular maintenance (both for the bike and himself) everything was ready for the road.

He said he lost between six and seven kilograms during his journey (15 pounds or so).

Weerman said he had to clean his bike's chain once a week and use a pricey lubricant for it, but it was well worth the money as it preserved the chain along the way. He has a new chain ready to go for the second half of the trip.

On Thursday morning, Weerman was due to set out for eastern Ontario, Quebec and the Maritimes. He has several friends he plans on seeing along the way and several locations he'd like to visit.

For example, he has a friend in Quebec City, which he's always wanted to visit, so he'll be spending a night there out on the town. He also has connections on Prince Edward Island with a former customer of his and his family, another reconnection he's happy to have on the schedule.

He will spend time in all of the provinces of Atlantic Canada before taking the ferry across to Newfoundland, landing at Channel-Port aux Basques for the final leg of his journey.

In Newfoundland, Weerman figures he will have about 900 kilometres left before reaching St. John's, so, by rough estimates, it will take him nine days to get there. However, he has just over two weeks booked there, with several nights in St. John's planned, so he hopes to enjoy some of the local food, drink and entertainment once he arrives on the country's most easterly province.
He said he learned a lot on the road and will change things up a bit for the second half. He plans to eat more and keep himself better nourished out on the road. He is also able to discard a few things to lighten his load, one of which is winter gear, which shouldn't be necessary for the final leg of the trip.

Thus far, he said, he has been very lucky in regards to weather, so he hopes that will continue. If it doesn't, however, he has no plans to quit. Quitting, he said, just isn't in his nature, so he will see the trip through to its natural conclusion. A few days of relentless rain, however, may be challenging.

To donate to Weerman's trip, follow the links on the Wingham and District Hospital Foundation online at wdhospitalfoundation.ca.

Check back with The Citizen next month as we catch up with Weerman when he completes his trip and returns home to Lucknow.