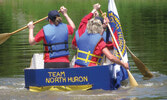 Musical Muskrat Festival full of family fun
The Musical Muskrat Festival is returning after a one-year hiatus to bring entertainment and fun to the shores of the Maitland River in Wingham.
Set for June 9-11, the event will feature the annual cardboard boat regatta as well as over two full days of family fun.
Friday starts with a chicken and rib dinner with live entertainment. The Vaudevillians, a 1920s rock and roll and ragtime band, will perform at the site from 5-7 p.m. followed by the band Jin and Tonic from 7-8 p.m. The Full Nelsons will take to the stage after that. Local fastball team the Wingham Hitmen will also have a regular season game that evening nearby.
On Saturday, a colour run will be hosted in support of the Building Bridges to our Future Campaign.
Saturday also brings the most hilarious portion of the festival as local teams build cardboard boats and launch them in a race on the Maitland River. The time for this event had not been decided at the time of printing.
Other events over the weekend include a dog show and duck race.
For more information, visit the Musical Muskrat Festival on Facebook.