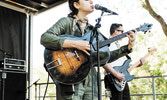 Perth County-raised Cat Clyde begins headlining tour
BY SCOTT STEPHENSON
Southwestern Ontario has produced its fair share of phenomenal musicians over the years, and Perth County-raised singer-songwriter Cat Clyde already fits comfortably into that pantheon, and she's just getting started. From her 2017 debut Ivory Castanets to her newest album Down Rounder, the young musician has always displayed a skill and confidence well beyond her years.

Clyde's voice is at times both fervent and haunting, with an ethereal quality that, when combined with her evocative lyrics and rich musicality, truly makes her stand out from a crowd.

The latest stop in Clyde's international headlining tour was London, Ontario on Sunday night, where she performed to a rapt audience of die hard fans and impressed newcomers. Clyde was kind enough to take time out of her tour preparations to speak to The Citizen just a bit about where she came from, where she's going, and what music means to her.

Clyde's childhood brought her all over Ontario, which has a definite influence on her unique sound. "I spent a lot of time as a kid in the fields and forests," she said. "Nature has always been my first inspiration. I was born in Sarnia, but I moved around a lot. When I was about 10 years old, I settled in Perth County." Clyde's sound is infused with the essence of the countryside, though you wouldn't call it country music.

Growing up just outside of Stratford was an invaluable experience for the young artist, who started busking when she was 15. " I really enjoyed doing a lot of busking in Stratford around theatre time. It really became a cool place for me to do my thing and experiment, and just play. I think that was really formative to what I do now."

For as long as she can recall, music has been a big part of the artist's life. "I remember singing from a very young age, really loving singing songs. I had a few uncles that played really great guitar and piano," she reminisced. "My grandfather also played the fiddle... that was probably my introduction to live music, and I just really loved it, and it was something I wanted to be around."

A fiddling grandfather or singing uncle is a childhood memory shared by many people who grew up in Southwestern Ontario - it's a sound infused with the history and heritage of the rural landscape. What starts out as a simple way to entertain friends and family ends up sparking the spirit of song in the next generation. In the case of Cat Clyde, that spark has grown into a full-fledged fire.

Many different sonic sources have fanned the flames of Clyde's talent over the years. "I feel like I'm inspired all the time by the music and artists that I listen to. Growing up, the thing that struck me really hard was blues music. I think initially I really fell into listening to Lead Belly's music. It really opened my eyes and ears to something that I didn't know existed or could exist. It really felt comforting, and made a space where I wasn't alone." Other seminal blues artists like Robert Johnson and Howlin' Wolf also left their mark on her, and started her on a path to discovering great female jazz vocalists like Etta James and Billie Holiday. Folk icons like Woody Guthrie came later, and all those early influences shine through in her songs - they can feel both timeless and brand new, and her deceptively simple lyrics can illuminate complex feelings within the listener.

It's clear that Clyde is deeply affected by the music that has inspired her over the years - this is perhaps one of the secrets behind her music's ability to evoke such strong feelings in her listeners. "I guess I hope that my music helps people connect with themselves in a deeper way, and maybe feel inspired. I know when I watch an artist that I really love and feel inspired by, it can kind of feel like it's a mirror of my own life," mused the artist. "I think that when we express our truest selves, that's when magic can happen. That's a big key to creating."

Recent years have seen Clyde getting more into collaborative work with other musicians. In 2021, she teamed up with Jeremie Albino for the album Blue Blue Blue - an album that is bluesy, but not strictly blues. "It's always going to be different when you bring different people and their energy into a room. But it's kind of exciting to have somebody to bounce things off of and kind of create a momentum with. It's different to create momentum yourself versus creating momentum with someone else. It's really nice when you have powerful energy you can kind of swap with other people."

Momentum is certainly an important theme for Clyde this year. "I've played a lot of amazing Canadian festivals this year, and met a lot of great people - I don't think I could say enough great things about this summer in particular!" Her tour has also already taken her to the U.K., and she will soon be travelling through Ottawa, Toronto and Montreal before bringing her talents south of the border to play in New York City, Austin, Seattle and Portland, just to name a few of the stops. She already has an Australian show lined up for 2024.

Being on tour has been a transformative experience for Clyde. "When you're touring, it's like being in a different reality. You're kind of on this mission - it's kind of an odd feeling to be in constant movement, but it's also kind of neat to gain perspective, and see life through a different lens."

Clyde's music may be influenced by many musical spirits from the past, but she is still a musician working in our technologically-advanced modern age, and experiences all the benefits and drawbacks that come along with that. "It's quite easy to record, and to experiment with recording. You can even record stuff on your phone that sounds quite good. Also, the ability to use voice memos on your phone to catch things that could otherwise fly away is quite neat also. And then I think some disadvantages would be like, I recently recorded with tape, and I realized that the formula for recording with tape is, for me, the way to record music. I've always recorded digitally in the past, and I think that when you record digitally there is so much less space and less time. All the space and time is filled with going back or fixing or tweaking and you can kind of get obsessed, go down some holes, and get into the weeds. With tape, it's more straightforward. You do your best, you do your takes, and you move on, and I really like that."

There are also unique challenges to the financial side of being an artist in the age of streaming. "These days, it's also just difficult to make a living and make money from it, because the way we buy music is different now. You have to be your own videographer, your own photographer, your own biographer. There's quite a lot of extra work." Some of Clyde's hits, like "Mama Said" have been listened to millions of times online, but that does not necessarily translate to financial success.

So what are Clyde's optimal conditions for a great show? "I like smaller venues. I feel like it's much more comfortable and cozy. And I also love a low stage. I really don't like high stages. I feel like it creates a disconnect." London's Sunday night audience was in luck - Clyde's show was at Rum Runners, the smaller venue nestled atop the London Music Hall. Not only is it both comfortable and cozy - it boasts one of the lowest stages in the city. Clyde was feeling confident in the days leading up to the show. "I have not been back to London for quite a while, and I'm excited to return!"

Based on the energy and enthusiasm in the room on Sunday, London was as excited to have Clyde back as she was to return. Her performance was an unforgettable one - the space was flooded with Clyde's powerful voice, clearly capable of overflowing in a much larger space. There was a sense in the crowd that they were lucky to catch the quickly rising star in such an intimate moment in her ascension. The crowd sang along to the words that moved them, danced when the spirit took them, and shouted requests for their favourite songs. Opening act Joe Abbott was a true entertainer, riffing on the singing cowboy persona, telling tall tales through nifty tunes, with a notable entry into Canadiana with a song about the wild life and death of hockey-playing coffee king, Tim Horton.

When her tour comes to an end, Clyde is planning to make another big move in her continued search for the momentum she craves. "I'm looking to move to Nashville in the new year… it's kind of a recent dream. I spent some time there last year and made a lot of great friends. I feel like there's a lot of great things, a lot of music happenings, and a lot of opportunities for collaboration that just don't feel like they are available around here."

Those opportunities may not be available to a musician with the skills and drive that Cat Clyde has right now, but it is easy to envision a version of where we live that could support locally-grown artists like her. We've seen it before with Wingham's Barn Dance era. Mildmay's Owen Riegling's talents were fostered through Lucknow's Music in the Fields, and Huron County has a number of beautiful venues new and old that could become standard stops on rural musical tours for all kinds of acts.
Wingham's recently restored Town Hall Theatre is a stately space full of musical history, while Blyth's Harvest Stage is a vision of Huron County's possible future. More people than ever before are coming to the area, and that means more possibilities for collaboration, and the momentum it brings with it.