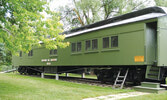 School on Wheels museum tells unique educational story
In this age when information is as close as a smart phone keyboard, it's hard to realize that it's not that long ago that there were isolated parts of Ontario where children had no chance of getting an education. The School on Wheels Railcar Museum in Clinton brings those days back to life.
The School on Wheels is the only remaining example of railway cars that were converted to serve as both a classroom for children and a home for the teacher and his family. This one is located in Clinton because it was home of teacher Fred Sloman and his wife Cela and their five children.
Sloman was the first teacher chosen for a school car, an experiment between the Ontario department of Education and the Canadian National and Canadian Pacific Railroads. In the case of the Slomans' school car, each week a CN Rail "wayfreight" moved the school car to one of the specially-built sidings on the 149-mile route between Capreol and Foleyet where it would remain for about five days. Pupils would come in from the village or the bush for a week of classes and Fred Sloman would leave them enough homework to keep them busy until his return after making the rounds of other stops along the route. More than 1,000 students graduated from this unique school before it was retired in 1967.
The Slomans themselves retired to Clinton, which had been their summer home all those years, in 1965. Fred passed away in 1973 at age 78. Cela was named a Member of the Order of Canada in 1984. A group of Clinton residents rescued and restored the school car. Touring the School on Wheels you can see what life was like for the students and the Sloman family.
The School on Wheels is open from 11 a.m. to 4 p.m. (last guided tour at 3:30 p.m.) from Thursday to Sunday, plus holidays, from Victoria Day until the end of September. Admission is by donation ­– (suggested donation of $5/adult, $3/child).
A special Children's Festival with Thomas the Tank Engine activities will be held August 11 from 10 a.m. to 2 p.m.
For more information check out the website at: www.centralhuron.com/schoolcar.